Hey y'all…Happy Friday!🌈
Friday Faves is a little meme where I can post some of my absolute favorite book related topics, including various tropes, awesome heroes/heroines, bad boys, bookish stuff and well… WHATEVER!

*REMEMBER: All the books featured on Friday Faves are books that I have read and adored at some point unless specifically noted!

THIS MONTH'S THEME:

Pride Month!
I celebrate PRIDE MONTH just about every year. I'm a huge advocate for human rights, all humans everywhere! Besides that, my son "came out" to me and my husband early in his high school years, about 5 or 6 years ago now. And honestly, it wasn't a big surprise to either if us nor did it change the fact that he's our son and we love him dearly. But what his sexuality did do was open our eyes to the prejudice, the harsh reality that although we've come a long way and perhaps are more accepting of people that may be "different," we still, as a whole, have a hell of a long way to go! It hurt me so much to see him losing friends or getting picked on because he's gay and so I think it's important to keep pushing for equality.
Ok, that's about as political and tense as I like to get!🤓
Here's the line up for June's Friday Faves:
So maybe I possibly, sometimes… watch too much tv!😳 But there's so much good stuff out there, I just can't help myself! Here's 5 of my favorite tv shows and movies.
Will & Grace

Original series and reboot on NBC.com; original series and reboot on Hulu

After neurotic interior designer Grace Adler (Debra Messing) leaves her fiancé at the altar, she moves in with her gay best friend Will Truman (Eric McCormack). Throw in spoiled socialite Karen Walker (Megan Mullally) and flamboyantly gay actor Jack McFarland (Sean Hayes), and you've got the makings of a hit (which also happened to be groundbreaking for American TV).

 

Schitt's Creek

Seasons 1-6 and holiday special (2018) on PopTV (with cable login), YouTube TV and Amazon Prime; Seasons 1-5 on Netflix

The Rose family has never known anything but a life full of privilege and the finest things. When video store magnate Johnny Rose (Eugene Levy) is defrauded by his business manager, he along with his wife, Moira (Catherine O'Hara); their daughter, Alexis (Annie Murphy); and their son, David (Dan Levy) find themselves completely broke. Their only option is to move to a town called Schitt's Creek, which Johnny once bought as a joke birthday present for David. It turns out, life in Schitt's Creek isn't so bad, and (just a tiny spoiler here), David, who's pansexual, meets Patrick (Noah Reid), thus kicking off one of the greatest love stories in the history of TV, complete with an epic Tina Turner cover.

 

Orange is the New Black

Seasons 1-7 on Netflix

This series is based on the autobiographical novel Orange is the New Black: My Year in a Women's Prisonby Piper Kerman. It follows the story of Piper Chapman (Taylor Schilling), whose history with her ex-girlfriend, drug dealer Alex Vause (Laura Prepon), is front and center as she does time in a minimum-security prison in Litchfield, New York. The story quickly branches out to being about so much more than Piper, and soon you'll get sucked into the compelling individual narratives of the many women of Litchfield. Lea DeLaria (Carrie "Big Boo" Black), Laverne Cox (Sophia Burset) and Samira Wiley (Poussey Washington) are just a few LGBTQ+ actors who add to the representation of this very queer show.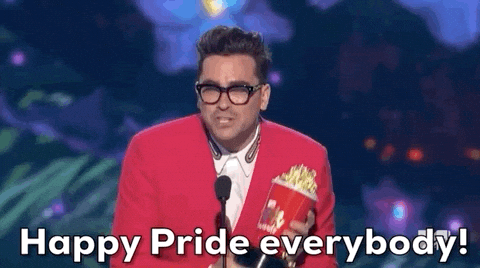 My Own Private Idaho (1991)

Gus Van Sant's loose Shakespearean adaptation brought the New Queer Cinema movement into the mainstream, with River Phoenix as a young, narcoleptic hustler and Keanu Reeves as his best friend and unrequited love interest.

 

Brokeback Mountain (2005)

The first mainstream queer film of the new millennium, Brokeback Mountain ushered its themes into the mainstream. Heath Ledger's shy Ennis del Mar falls in what he cannot articulate as love with Jake Gyllenhaal's Jack Twist over a long, lonely winter, and their lives bounce off each other's for years afterward. Ang Lee and screenwriter Larry McMurtry expand Annie Proulx's short story into a film without one false moment.
Some of these shows are so hilarious! Have a spectacular day y'all!💜