Hey y'all… It's Monday again!😲
We got a last minute visit from my two sisters who live out of town and hadn't seen for a bit so there was a lot of catching up to do this past weekend!🎉
I've also taken on the MONUMENTAL task of cleaning out and organizing my garage. That's going to take me awhile but luckily, Thing3 is on spring break from school so I have a helper.😏
On Thursday, Thing1 is turning 23 years old! I can not believe how fast time has flown. How am I old enough to have a son that's 23?!?😵
Then on Friday, my husband would have celebrated his 46th birthday…💔
I don't have much planned for the blog this week because I know I'll be busy trying to get my house in some kind of order but I know there's still a few posts for me to catch up on so I'll try to work on those! I'm reading, luckily, but it's still going pretty slow for me.🙄
Oh! And I binged LUCIFER with Thing3 and let me just say…Tom Ellis? Wowza! My new "dream man!" 😍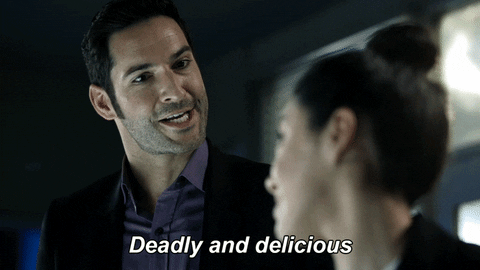 This is the post where I talk about my blogging adventures for the week to come. I try to stick to a "schedule" of sorts & this keeps me as organized as I can be. Here's what you can find here almost every week:
*

HUNKY HERO HUMP DAY

 where I share the cover of a hot hero with y'all.
*

THROWBACK THURSDAY

where I share a book from my TBR or a book from my read again e-shelf.
*

FRIDAY FAVES

 where I share 5 of my favorite books or bookish stuff. I choose a different theme every month.
*

SUNDAY'S SONG

 where I share a song and video.
*There may also be a post or two about other things like: 
DOWN THE TBR HOLE
BOBO'S BOOKSHELF
BOBO'S BARGAIN BIN
RETRO FAVES
NEW RELEASES TO GET EXCITED ABOUT
THEME MEMES
BOOK BABES
BOBO'S BAD BOY BRIGADE
QUOTE AN AUTHOR
BOOK TAGS
March 9: Spring Cleaning Freebie (for example, books you're planning to get rid of for whatever reason, book's you'd like to clean off your TBR by either reading them or deciding you're not interested, books that feel fresh and clean to you after winter is over, etc.)
Fresh new recs on Friday!
ICYMI: a new read for March's book club!
I have 1 ARC to read before I can get into my book club read…
The Last Piece of His Heart (Lost Boys Book 3) Kindle Edition by Emma Scott
I'm excited to read this one! How about you, what are you reading? Have a marvelous week y'all!💜