Hey y'all… Day 14!!😮
I'm linking up with my blogger buddy, Sophie @Beware of the Reader to bring you another round of my BEST READS OF 2020! I've done this before and its so much fun! Go check out her blog if you get a chance, she's fabulous!

OH! And just FYI: these are books that I read THIS year though they may have been PUBLISHED before 2020!

*From Sophie's blog:

Hi friends,

If you follow me for some years you know that at the end of each year , in December, I give you my best reads of the year.

Daily posts looking back into 2020 and gushing about my favorites.

Well this is happening again!

It's been launched on Instagram already with other bloggers cohosting with me, some of whom are on WordPress like @sophiesreadingcorner others not like @pavlinamich ; @eliz_white and @utcabookblog .

I will post on Instagram, the blog and facebook.

If you too want to show your favorites this year, I'd be very happy to see you join us.

We'll used #bestreadsof2020 as hashtag on social media (I confess that I will follow on Instagram with an eagle eye LOL).

Here below are the topics.
And the award for the Best Secondary Character (Cast) goes to…
Little Lies
by
H. Hunting
My rating:
5 of 5 stars
Little Lies is a standalone by H. Hunting (aka Helena Hunting). However, I'm really, really hoping this becomes a series!
Lavender has lead a less than normal life. As the youngest and only girl in a family with three brothers (Robbie, Maverick and twin River), she's spent her entire life sheltered. This began with an incident that happened when she was very young. Lavender not only has to deal with her overprotective family, now that she's in college an hour away from home, she has her brother's friends and various cousins to contend with. If only she hadn't spent her life hopelessly in love with Maverick's best friend, Kodiak, she might actually enjoy college life.
I'm just going to say this up front… This is my favorite book from Ms. Hunting so far! I got ALL the feels from this story. I cringed, I cried, I laughed. I got angry, sad, charmed, surprised and I fell in love with Lavender and Kodiak. I adore a strong female character and this book definitely delivered it with Lavender. She was quirky and clumsy, funny and talented. She had a loving family and yet her life was a series of bumps and bruises. I admit, I didn't get as strong a connection with Kodiak at first because he was so mean to Lavender but as the story unfolded, he grew on me and won me over.
I have to give a nod to the secondary characters because I absolutely enjoyed all of them and I NEED their stories! I'm placing this one on my BEST OF 2020 list! It's an exceptional combination of a whole bunch of tropes (coming of age, enemies to lovers, second chance, brother's best friend, romantic comedy…) and I was delighted by every page. Told from dual POVs with a sugary sweet ending. I voluntarily read and reviewed this book.
View all my reviews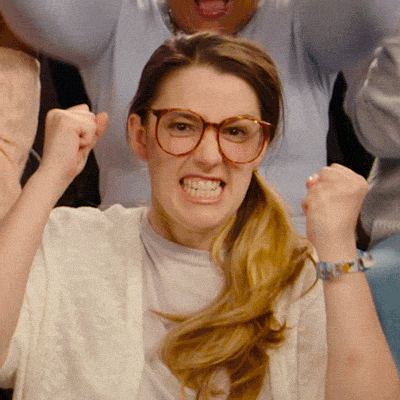 I adored the ENTIRE secondary cast!!! Have an amazing day y'all!💜