Hey y'all…happy Friday!!💋
FRIDAY FAVES

 is a little meme where I can post about some of my favorite book related topics, including various tropes, awesome heroes, bad boys and bookish stuff!

*Remember

: all the books featured on Friday Faves are books that I have read and adored unless specifically noted!

 This Month's Theme:

Tattoo Teasers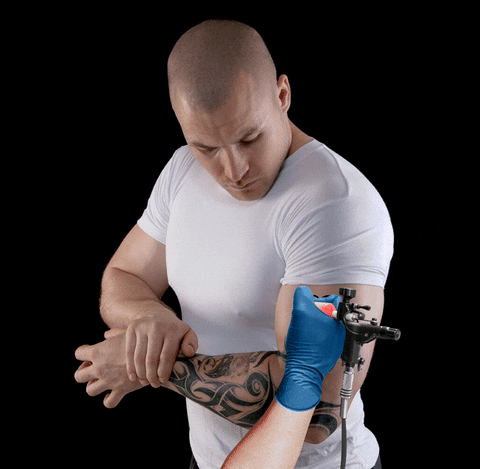 How do you feel about tattoos? Do you like them on your eye candy? When an author describes them in a story, are you tantalized? Me…I 

FLOVE

 tattoos and I definitely love them on my bad boys!

I personally have 4.5 (the half was the first tat I got when I was a 13 year old rebel). Funny tidbit: Mr. A had 

ZERO

 tattoos, nor did he want any! He used to say, "God made me perfect, why mess with a good thing?" I think he was just afraid of needles!😏

So, this month, I decided to focus more on those hot scenes where an amazing tattoo is described. Each week, I'll share a scene from 

ONE

 book 

JUST

 about that tantalizing tat…

TATTOO TEASERS!

😎 Hope y'all enjoy it as much as me!
Lover Eternal (Black Dagger Brotherhood #2) by J.R. Ward
"In a fluid motion he got to his feet and backed away from her. When he turned around, her breath came out in a hiss. A magnificent, multicolored tattoo covered his entire back. The design was that of a dragon, a fearsome creature with five-clawed limbs and a twisting, powerful body. From its resting place, the beast stared out, as if it were actually seeing through its white eyes. And while Rhage paced around, the thing moved with the undulations of muscles and skin, shifting, seething. Like it wanted out, she thought. Feeling a draft, Mary pulled the blanket around her body. When she looked up, Rhage was way across the room. And still, that tattoo stared at her. "
This is one of my all time favorites from this series! Have an awesome day y'all!💜