Hey y'all…happy Friday!🎉
FRIDAY FAVES

 is a little meme where I can post about some of my favorite book related topics, including various tropes, awesome heroes, bad boys and bookish stuff!

*Remember

: all the books featured on Friday Faves are books that I have read and adored unless specifically noted!

 This Month's Theme:

Tattoo Teasers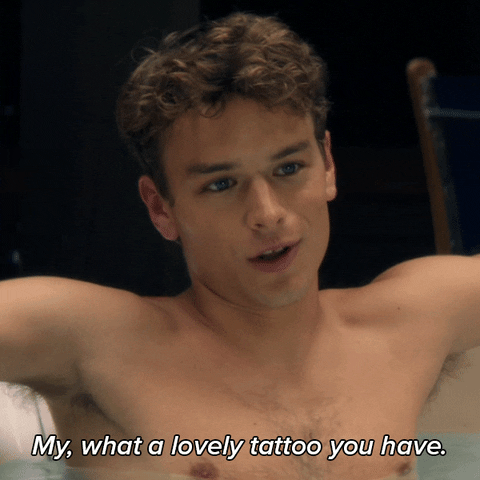 How do you feel about tattoos? Do you like them on your eye candy? When an author describes them in a story, are you tantalized? Me…

I FLOVE tattoos

and I definitely love them on my bad boys!

I personally have 4.5 (the half was the first tat I got when I was a 13 year old rebel). Funny tidbit: Mr. A had 

ZERO

 tattoos, nor did he want any! He used to say, "God made me perfect, why mess with a good thing?" I think he was just afraid of needles!😏

So, this month, I decided to focus more on those hot scenes where an amazing tattoo is described. Each week, I'll share a scene from 

ONE

 book 

JUST

 about that tantalizing tat…

TATTOO TEASERS!

😎 Hope y'all enjoy it as much as me!
House of Earth and Blood (Crescent City #1) by Sarah J. Maas
They'd always worked well together—Micah had known it when he put Hunt with Isaiah two years ago, despite the entwined thorns tattooed across both their brows. Most of Hunt's mark was hidden by his dark hair, but there was no concealing the thin black band on his forehead. Isaiah could barely remember what his friend had looked like before those Pangeran witches had branded him, working their infernal spells into the ink itself so they might never let his crimes be forgotten, so the witch-magic bound the majority of his power. The halo, they called it—a mockery of the divine auras early humans had once portrayed angels as possessing. There was no hiding it on Isaiah's brow, either, the tattoo on it the same as on Hunt's, and on the brows of the nearly two thousand rebel angels who had been such idealistic, brave fools two centuries ago.
This one was my very first read by SJM and I loved it so much, I went out and bought several more of her books! Have a magical day y'all!💜