Hey y'all…I'm baaack!💕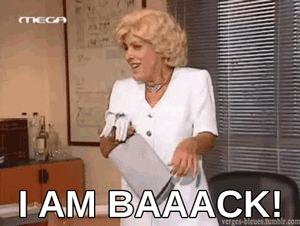 Two weeks ago, my Dad unexpectedly passed away. He was 74 and ornery as hell but he was also a very positive person and an awesome parent. And as much as my heart is broken because in the span of 9 months, I've lost my husband and my dad, I can actually hear him in my head telling me not to cry, that everything's going to be ok. In my heart, I believe that Mr. A and my daddy are in peace together.
So, I'm back to blogging and I'll be working this week to catch up on a whole bunch of reviews that I need to write as well as working on a SPECIAL post for next week!
This is the post where I talk about my blogging adventures for the week to come. I try to stick to a "schedule" of sorts & this keeps me as organized as I can be. 😏 Here's what you can find here almost every week:

*HERO HUMP DAY where I share a hot hero with y'all.

*THROWBACK THURSDAY

 where I share a book from my TBR or a book from my read again e-shelf.

*FRIDAY FAVES where I share 5 of my favorite books. I choose a different theme every month.

*SUNDAY'S SONG

 where I share a favorite song and/or video.

*There may also be a post or two about other things like: 

DOWN THE TBR HOLE

BOBO'S BOOKSHELF

BOBO'S BARGAIN BIN

RETRO FAVES

NEW RELEASES TO GET EXCITED ABOUT

THEME MEMES

BOOK BABES

BOBO'S BAD BOY BRIGADE

QUOTE AN AUTHOR
I can't believe it but there's only 2 MORE FRIDAYS in June…eeek! I'll continue with my plans to give you some of my favorite summer titles for Friday Faves
I have no ARCs on the books this week but there's a summer reading challenge that I'm going to participate in so I'm pulling a book from there and then doing a re-read of an old favorite
A Place Without you Kindle Edition by Jewel E Ann
Rock Chick Kindle Edition by Kristen Ashley
It's a scary world out there right now…I sincerely hope y'all have a phenomenal week!💜