Hey y'all…happy Memorial Day Monday!🇱🇷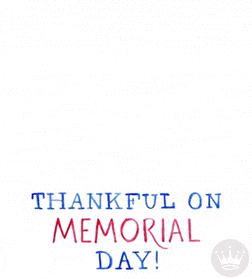 Happy Memorial Day if you're in the United States y'all! And if you're not, let me explain that the last Monday in May is a federal holiday in honor of all the men and women who have died while serving in the U.S. military. Regardless of my political affiliation, I am honored and blessed to be able to celebrate this holiday.
Right now, I have one nephew serving in the Army but I come from a very long line of family members who have served in all branches of the military. So, my heart and my sincere gratitude goes out to every soul who has ever perished while fighting for what I have today!💕
This is the post where I talk about my blogging adventures for the week to come. I try to stick to a "schedule" of sorts & this keeps me as organized as I can be. 😏 Here's what you can find here almost every week:

*HERO HUMP DAY where I share a hot hero with y'all.

*THROWBACK THURSDAY

 where I share a book from my TBR or a book from my read again e-shelf.

*FRIDAY FAVES where I share 5 of my favorite books. I choose a different theme every month.

*SUNDAY'S SONG

 where I share a favorite song and/or video.

*There may also be a post or two about other things like: 

DOWN THE TBR HOLE

BOBO'S BOOKSHELF

BOBO'S BARGAIN BIN

RETRO FAVES

NEW RELEASES TO GET EXCITED ABOUT

THEME MEMES

BOOK BABES

BOBO'S BAD BOY BRIGADE

QUOTE AN AUTHOR
My planner is pretty empty so I think I'll throw in a new author quote this week, probably Thursday..
The final round of book 2 in a series…which series will it be?!?😏
I have 3 reviews for you this week! Yes, I actually wrote some reviews!! But no new ARCs this week so I'll pick some books from my humongous TBR!
Throne of Glass (Throne of Glass series Book 1) Kindle Edition by Sarah J. Maas
Transcend (The Transcend Series Book 1) Kindle Edition by Jewel E Ann
Radically different books but I can't wait to dive in! What are YOU reading? Have an amazing week y'all!💜