Hey y'all…it's another Friday!🐰🐇
FRIDAY FAVES 

is a little meme where I can post about some of my favorite book related topics, including various tropes, awesome heroes, bad boys and bookish stuff!

Remember, all the books featured on Friday Faves are books that I have read and adored unless specifically noted!

Today's topic:

BOOK BUYING ON A BUDGET: E-BOOKS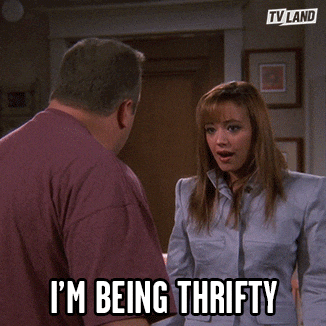 No matter where you are living in the world, life right now is different, unprecedented, scary. We are all under a huge amount of stress, fear and financial burdens. Most of us are under lockdown for who knows how much longer. 

Normally, I've only got two of my kiddos under my roof to buy groceries for but since Thing 1's hours have been cut down to part time, I'm also helping him and his girl out. What does that mean? It means I'm broke! 😂 But even if we weren't living during these troubling times, I'm ALWAYS looking for a great deal, a sale or a freebie. And there's no way I'll give up my reading hobby for any stinky flu!😁

So, for the month of April, I'll be doing something a little different by giving y'all some suggestions and ideas on BOOK BUYING ON A BUDGET! Here's my line up:

5 Ways to buy E-BOOKS on a budget (April 10)

5 Ways to buy PRINT BOOKS on a budget (April 17)

5 Top BEST BUYS, STEALS & DEALS (April 24)

Just a heads up: these are my personal tips and tricks that I use here in ROMANCELANDIA! They may or may not work for you or your chosen genre but I hope they help. Also, please keep in mind that authors are people too. They have to pay bills just like you or I so ABSOLUTELY NO PIRATING! And if you're lucky enough to get an ARC (advanced reader copy) be sure to be a W.O.y.W. gal (woman of your word) and leave an honest review!😉
NEWSLETTERS

: if you have a favorite author or two, get on their website and join their newsletter, especially if the author is new or relatively new to the scene. Most authors will offer freebies to newcomers! Don't wanna clog up your email? It's super easy to open a new email account just for correspondence from authors!
For example: Do you enjoy author L.J. Shen? Check out her website:
ARC READ

: an ARC or an "advanced reader copy" can be requested from certain websites and/or authors even if you aren't a blogger! These are gifted in exchange for an HONEST BOOK REVIEW on Amazon, Goodreads and/or Bookbub. So if reviewing isn't your thing, don't sign up for an ARC! Having said that, don't be afraid to contact your favorite author and ASK! If you're super lucky, they just might gift you a copy. (Just don't be too upset if you don't get one, I mean authors have to make money too!!😉)
WEBSITES

: there's a bunch of fabulous sites around the web to get info on the latest sales and freebies! (Again, grab a new e-mail addy so your regular e-mail doesn't get clogged with stuff!)
Shameless plug 😋-> -> on Saturdays, I sometimes post a little thing called:
And here's more great websites:
SOCIAL MEDIA:

I know some people don't like the whole social media thing. I myself use it mostly in conjunction with my blog. HOWEVER, a lot of authors love to connect with their readers through Facebook, Instagram and Twitter. Check out one of my unicorn author's Facebook page, Kristen Ashley, she just wrote a new book that's FREE for those of us in lockdown:
And here's the freebie link:
KINDLE UNLIMITED

: Ok, so you've probably heard of this one if you're an active reader. This is a program offered by Amazon. Generally, the first month is free and then you'll get charged like $10 bucks a month. Now, for me, I can stretch $10 into three or four books. But I also read about 2 books per week, so an average of about 8 books per month. Doing the math, that means that I could read my 8 books for $10 a month! That's a steal! However, on the flip side, you don't technically own the books which is a drawback for me because I love to admire my extensive collection of about 3,000 e-books! (I know, crazy, right?!?) But if you aren't an avid collector, you might wanna give this a try!
I know there's more out there….where do you go for book deals? Have a fabulous day y'all!💜