Hey y'all…we've reached another "stay home" Sunday !😷 I need something to perk me up and get me moving! Let's
DANCE

!🎶
New to 

SUNDAY'S SONG

? I've always felt like music (& reading) is my escape, I find comfort in the melody, the words and more importantly, a song is like a mini story. I mean, great songs tell a story, have meaning or a message. I've always wanted to find a way to incorporate some of my favorite songs into my blog…so, 

SUNDAY'S SONG

 was born!🎶

*Check out the lyrics highlighted in 

RED

, they're my favorite part!

*

WARNING

: I'm a child of the 80's, grew up in the 90's, a hippy wanna be, born in Texas (and therefore 

MUST

 enjoy some country) and I have kids so I do like some contemporary music too. In other words, I love all kinds of songs!😊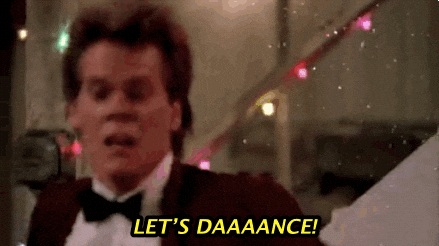 Been working so hard
I'm punching my card
Eight hours for what?
Oh, tell me what I got
I've got this feeling
That time's just holding me down
I'll hit the ceiling
Or else I'll tear up this town
Now I gotta cut loose
Footloose, kick off the Sunday shoes
Please, Louise, pull me off of my knees
Jack, get back, come on before we crack
Lose your blues, everybody cut footloose
You're playing so cool, obeying every rule
Deep way down in your heart
You're burning, yearning for the some-somebody to tell you
That life ain't passing you by
I'm trying to tell you
It will if you don't even try
You'll get by if you'd only cut loose
Footloose, kick off the Sunday shoes
Ooh-whee, Marie, shake it, shake it for me
Whoah, Milo come on, come on let's go
Lose your blues, everybody cut footloose
You got to turn me around
And put your feet on the ground
Gotta take the hold of all
I'm turning loose, footloose, kick off the Sunday shoes
Please, Louise, pull me off of my knees
Jack, get back, come on before we crack
Lose your blues, everybody cut footloose
Footloose, kick off the Sunday shoes
Please, Louise, pull me off of my knees
Jack, get back, come on before we crack
Lose your blues, everybody cut, everybody cut
Everybody cut, everybody cut
Everybody cut, everybody cut
Everybody, everybody cut footloose
Songwriters: Dean Pitchford, Kenny Loggins
© Sony/ATV Music Publishing LLC
For non-commercial use only.
Did you know?
Kevin Bacon was offered the leading role for the Stephen King movie Christine (1983), at the same time that he was asked to do a screentest for Footloose (1984). The producers had to convince Bacon that turning down a sure role in "Christine" for a part he might not even get in "Footloose" was the wiser choice. The producers told him that if he got the part for "Footloose", the role would make him a star. Thirty seconds into the screentest, Bacon was offered the part.
Info from: https://www.imdb.com
From The Original Soundtrack Of The Paramount Motion Picture: 'Footloose' ℗ 1984 CBS Inc./© 1984 CBS Inc.
I hope y'all take a few minutes to sing and dance, even if it's alone in your shower! Have a fabulous day y'all!💜