Hey y'all…happy Friday!😁
FRIDAY FAVES 

is a little meme where I can post about some of my favorite book related topics, including various tropes, awesome heroes, bad boys and bookish stuff! Remember, all the books featured on Friday Faves are books that I have read and adored unless specifically noted!

Today's topic:

Women With Weapons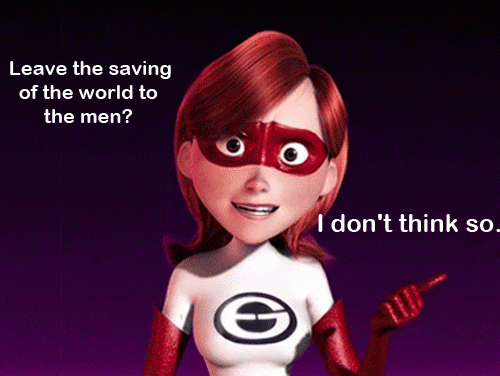 March is

NATIONAL WOMEN'S HISTORY MONTH!

This celebration of women began in the late 70's and each year there's a new theme. 2020's theme is

"Valiant Women of the Vote."

As a savvy woman myself (wink wink), I thought it would be fab to present some of the most bad ass heroines in romance! Now, I'll apologize in advance y'all, because I tried to spread the love and showcase different authors but it turns out…my unicorn authors

ARE

my favorite

BECAUSE

they write about strong women and gee, I couldn't just leave out some of these remarkable stories! But I promise to throw in some amazing books!!💜

So what makes a "strong" woman? Well, she may not have a loud political voice, may not be an innovator or be the smartest or the most honest person. In fact, I tend to favor the wall flowers who go through he'll to discover their own worth, the ladies who maybe feel like the underdog or the woman who stands behind her man but who really knows that she's the one quietly holding that man up.

OK…Here's The line up:

Women With Weapons (March 6)

Witches, She-Wolves & Vamps, Oh My! (March 13)

Old Ladies and Bikers Chicks (March 20)

The Smart and The Sassy (March 27)
All the Rage (King #4.5) by T.M. Frazier
They call me Rage.
My real name is like a shadow, always close behind, but never quite able to catch up to me.
I fly under the radar because no one ever suspects I'm capable of the kind of brutal violence I commit each and every day.
You see, I'm a girl. I'm nineteen.
And I'm a killer.
I look like a goddamn cheerleader, but can take out a man three times my size in more than as many ways, without hesitation.
This life is all I know. It's all I want to know. It keeps the shit buried that I need kept buried. It allows me to live without thinking too much.
Without dwelling on the past.
Until him.
It all changes when an ordinary boy becomes my next target.
And my first love.
I have to choose.
The only life I've ever known has to die, or he does.
Either way, I'll be the one pulling the trigger…
Cash (The Henchmen MC #2) by Jessica Gadziala
CASH
My life has been about three things- brotherhood, good times, and women. Easy. Nothing complicated. That was until Willow Swift came barging back into my life, face bloodied, banging at the gates of The Henchmen compound calling in a favor owed. Now a marker is a marker and I had to make good, but if there was one woman in the world I didn't need in my life, it was the hard-as-stone, hot-as-sin Willow Swift and whatever mysterious ghosts from her past that were haunting her present.
WILLOW
My life has been nothing but two things: hard and complicated. The last person I wanted in my business was the notorious love-em and leave-em Cash, but I needed help and he was the only one I could lean on without worrying about him finding out about my past. But I was starting to wonder if maybe he was his own kind of dangerous bent on tearing down some things I had long since learned were not possible for me- like falling for a guy I could not, ever, let see the real me.
While this can be read as a stand-alone, you will get more out of this book if you read "Reign" and "Monster" first.
* For possible triggers, go here: http://www.jessicagadziala.com/trigge… *
Guilty Pleasures (Anita Blake, Vampire Hunter #1) by Laurell K. Hamilton
Meet Anita Blake, Vampire Hunter, in the first novel in the #1 New York Times bestselling series that "blends the genres of romance, horror and adventure with stunning panache"(Diana Gabaldon).
Laurell K. Hamilton's bestselling series has captured readers' wildest imaginations and addicted them to a seductive world where supernatural hungers collide with the desires of the human heart, starring a heroine like no other…
Anita Blake is small, dark, and dangerous. Her turf is the city of St. Louis. Her job: re-animating the dead and killing the undead who take things too far. But when the city's most powerful vampire asks her to solve a series of vicious slayings, Anita must confront her greatest fear—her undeniable attraction to master vampire Jean-Claude, one of the creatures she is sworn to destroy…
"What The Da Vinci Code did for the religious thriller, the Anita Blake series has done for the vampire novel."—USA Today
Rock Chick Renegade (Rock Chick #4) by Kristen Ashley
Jules has got a score to settle against the drug dealers of Denver. Vance has made it his mission that Jules won't get dead while dishing out vigilante justice. Jules doesn't have time for romance, she's too busy saving the world and she enlists Zip (the gunstore owner), Heavy (an ex-PI) and Frank (a mysterious recluse) to help.
The Rock Chicks of Fortnum's Bookstore get involved to provide romantic advice and guidance, none of which Jules accepts at first. The Hot Bunch of Nightingale Investigations adopt Jules as one of their own. Even though Jules tries to hang on to her inner Head Crackin' Mamma Jamma, the Rock Chicks; Hot Bunch; Jules's long-suffering Uncle Nick; Jules's friend the rotund, African-American, Jackie-O wannabe, May; and especially Vance will stop at nothing to wear her down.
But Jules makes some bad guys pretty angry and one is dedicated to taking her out. Vance and the Hot Bunch have to pull out all the stops to keep her alive. At the same time, Jules and Vance learn the true meaning of home but once they find this precious entity they've been searching for all their lives, will Jules's enemies tear it away?
No Light (Werelock Evolution #4) by Hettie Ivers
A centuries-old werelock playboy meets his match in a fearless single mom on the run…
He was supposed to be an easy target.
I had a clean shot at him while his back was turned and his pants were down.
I wasn't supposed to get distracted by his scent … or by the sight of his perfectly sculpted naked ass cheeks on display.
He was never supposed to turn around and see me.
Or start stripping the rest of his clothes off.
And the greatest threat to my daughter's life definitely wasn't supposed to start kissing me—after I'd just shot him five times.
CONTENT: 100k word, full-length novel. HEA with no cheating. Although this is book #4 in the Werelock Evolution series timeline, it was written to work as a STANDALONE, so it is not necessary to have read the trilogy that precedes No Light. This book contains violence, foul language, adult content, and a lot of over-the-top werelock characters. If such material offends you, please do not read.
Oh! And by the way…
PURPLE

is the official color for Women's History Month! Enjoy y'all!💜