Hey y'all…getting ready for another Monday!😍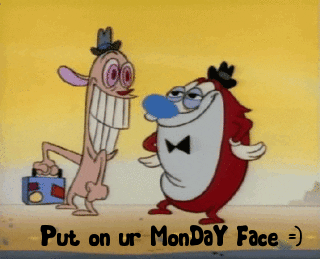 On Friday, Thing 3 threw his back out playing basketball. I had to pick him up from school and now he can barely walk. 😬 I foresee a doctor visit for him sometime soon! Ay yi yi!
OH!! I almost forgot! It seems that I'm a huge stress eater and since Mr. A's passing, I've gained like 10 pounds. Now, ordinarily, that's not too big a deal but I was already fluffy before the extra pounds. Plus, I'm short. Basically, I look like a pear with legs, LOL! 🍐So, I started on a low carb diet. I'm on day four and I'm definitely feeling better. But Oh my God…
EVERYTHING HAS CARBS IN IT!

When I told my son we were going low carb, he was like, "Mom, we'll have to throw away everything in the pantry!"
 He wasn't wrong.😯
Anyway, I'll keep y'all updated on my diet but if you happen to hear an S.O.S. from me…send donuts ASAP!!😂🍩
WHAT I'M WATCHING:
Still on the horror/thriller/suspense train. Turns out, Netflix has some pretty good "B" movies!
WHAT I'M LISTENING TO: 
Well, Thing 3 (who's only 13) surprised me the other day by asking me about Lynyrd Skynyrd and Led Zeppelin! I was so proud, I may or may not have shed a tear! 😅 Needless to say, Mama's been giving some music lessons!🎶
This is the post where I talk about my blogging adventures for the week to come. I try to stick to a "schedule" of sorts & this keeps me as organized as I can be. 😏 Here's what you can find here almost every week:

*HERO HUMP DAY where I share a hot hero with y'all.

*THROWBACK THURSDAY

 where I share a book from my TBR or a book from my read again e-shelf.

*FRIDAY FAVES where I share 5 of my favorite books. I choose a different theme every month.

*SUNDAY'S SONG

 where I share a favorite song and/or video.

*There may also be a post or two about other things like DOWN THE TBR HOLE, BOBO'S BOOKSHELF, BOBO'S BARGAIN BIN, RETRO FAVES, NEW RELEASES TO GET EXCITED ABOUT, THEME MEMES or BOOK BABES!
One more Friday Faves this month…

LOVE UNRECIPROCATED!
I've got one ARC to read this week and two to review so cross your fingers y'all will get 3 reviews!😉
Unforgiven (Loveless, Texas #2) by Jay Crownover
My Bestie's Ex (The Rooftop Crew #1) by Piper Rayne
Hope y'all have a fantastic week y'all!💜