Hey y'all…Thank God it's Friday!😏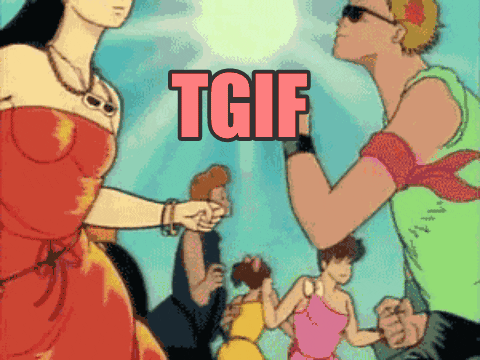 FRIDAY FAVES

is a little meme where I can post about some of my favorite book related topics, including various tropes, awesome heroes, bad boys and bookish stuff! Today's topic:

INTERRACIAL ROMANCE! 

As an Hispanic woman, I'm always looking for multicultural or interracial romances because I love the angst of overcoming adversity. Maybe this a touchy subject matter but for me and my tender heart, looking at it through a romantic light just gives me all the feels! 
Lady Luck (Colorado Mountain #3) by Kristen Ashley
Ty Walker was wrongly imprisoned and for the five years he was inside, he honed his plan so when he gets out, he has nothing but vengeance on his mind.
But then he walks straight to stylish, leggy, beautiful, goofy Lexie Berry and he suddenly has something else to think about. He knows within seconds he wants her and within days he can love her but with the filth that was flung at him clinging; he also knows he can't have her.
Since birth, Lexie Berry has been Lady Luck's favorite toy and because of that, Lexie is cautious. But within a day, she senses Ty is something special. With her luck, however, she can't trust it. Then she finds out what was done to Ty and she's willing to do anything to make it right.
Even what Ty will never forgive her for doing.
Ty clings to vengeance and Lexie goes all out to give him back the time he lost. But Ty is battling demons within and they're up against dirty cops and criminals who will stop at nothing to sway Lady Luck against them. All Ty and Lexie have is hope Lady Luck will finally swing their way.
Grip (Grip #1) by Kennedy Ryan
***This is not a cliffhanger.***
Resisting an irresistible force wears you down and turns you out. I know. I've been doing it for years.
I may not have a musical gift of my own, but I've got a nose for talent and an eye for the extraordinary. And Marlon James – Grip to his fans – is nothing short of extraordinary.
Years ago, we strung together a few magical nights, but I keep those memories in a locked drawer and I've thrown away the key. All that's left is friendship and work.
He's on the verge of unimaginable fame, all his dreams poised to come true. I manage his career, but I can't seem to manage my heart.
It's wild, reckless, disobedient. And it remembers all the things I want to forget.
Make sure you grab FLOW, the FREE prequel first! FLOW is chronicling the week of magical days and nights that will haunt Grip & Bristol for years to come. GRIP is the full-length conclusion of their story.
El Diablo (The Devil #1) by M. Robinson
I was ruthless.
I was feared.
I had sacrificed. Myself. Her. Everything…
Living in a world where I was worth more dead than alive was a choice. I was a bad man, never claimed to be anything else. I've done things I'm not proud of. Seen things that can't be unseen. I've caused pain that I can't undo.
It was all my choice.
Every decision.
Every order.
Right and wrong never mattered.
Until her.
She was under my protection, until she became my obsession.
But who was going to save her…
From. Me. The devil himself.
Fate brought us together. Destiny destroyed us.
Breaking Dragon (Savage Brothers MC #1) by Jordan Marie
Nicole
At one time, I had everything I wanted in life. Or I thought I did, but I lived in black and white. Then, he exploded into my world. Dragon.
He's hot-blooded, cocky, stubborn as hell, and he drives me crazy. With him everything is more…It's more vibrant, more exciting, more…real.
Suddenly I have everything to lose. In fact, I'm terrified that I might not be strong enough to hold on to it all. Because I'm learning with life, there are no hearts and flowers. Sometimes, there is just darkness.
—
Dragon
There's one thing I know about life. You have to grab it by the throat and go at it full throttle.
Thrown away with the garbage on the day I was born, hooked on crack before I even take my first breath and doing what I had to do just to survive—
That's who I am.
I'm the filth your mother warned you about.
The Savage MC is the only family I've ever had, the only ones I can depend on.
Then she walks into my life. Nicole.
Nothing like what I expected, sassy, smart and sexy as hell. She's everything I could want and more.
Our worlds don't mix. I'm only going to drag her down.
She should have never let me touch her…
Life can tear you into shreds, make you bend until you break.
Sometimes, you have to face death, so you can live.
A Charm of Finches (Venery #2) by Suanne Laqueur
"I swear. Give me one more chance and I will make the most of it."
Ex-hustler Javier Landes is asking for his third chance at love. The third time proves to be the charm when he meets a Manhattan art therapist named Steffen Finch. What starts as casual and curious deepens into a passionate, soulful relationship—everything Jav has ever wanted, and everything he fears losing.
Stef's business card reads Curator & Sailor. His creativity and insightful nature have made him into a talented therapist, the one to call for tough cases. His professional success can't conceal a deep need to connect with someone, but Javier Landes is the last person Stef expected.
Geronimo "Geno" Caan is Stef's most challenging case. To cope with his ordeal, he's allowed an alter-ego called Mos to make decisions, and now lives a double life within a web of lies. Under Stef's navigation, Geno uses art to express what Mos forbids to be spoken aloud. But as Geno's attachment to Stef gradually extends to Jav, the boundaries between professional and personal begin to blur.
Over the course of a year, Jav, Stef and Geno form an unexpected and unconventional triangle, revealing how men make love in times of war and how love is a great wisdom made up of small understandings. The long-awaited second book of the Venery series, A Charm of Finches is an epic tale of survival and secrets guaranteed to make you think and feel and remember.
So what are some of your faves? Have a fabulous day y'all!💜