I Flipping Love You (Shacking Up, #3)
By Helena Hunting
I Flipping Love You Kindle Edition by Helena Hunting
From New York Times bestselling author Helena Hunting comes I Flipping Love You, a love story about flipping houses, taking risks, and landing that special someone who's move-in ready.
Rian Sutter doesn't usually get hit on in the grocery store, but when she notices a sexy man in a suit checking her out, she thinks maybe it's her lucky day. Either that or the suit has a thing for sweaty, yoga-pant wearing women with excellent price matching skills.
Turns out it's neither.
Pierce Whitfield can't believe his luck when he's able to track down the woman who scratched up the paint job on his car at the scene of the crime. But when he confronts the hit and run hottie, he discovers there's not just one, but two of them, and he's been throwing accusations at the wrong twin.
As repair costs are negotiated, and the chemistry between them flares, Rian and Pierce find out they have more than mutual attraction in common. They're both vying for the same pieces of prime real estate in The Hamptons and neither one plans to give up without a fight.
Can these passionate rivals turn up the heat on their budding romance—without burning down the house?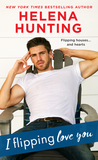 I Flipping Love You by Helena Hunting
My rating: 5 of 5 stars
I FLIPPING LOVE YOU is book 3 in the Shacking Up series. There's a few interconnected characters but no worries about jumping right into this one, it's a standalone!
Rian Sutter and her twin sister, Marley, have lived the last ten years poor as paupers and relying solely on each other to pull themselves out of near poverty. They've worked hard as real estate agents and are on the verge of having enough capital to become house flippers. That is until Rian meets the crazy hot patent lawyer, Pierce Whitfield in the cereal aisle. He's taking a break from lawyering and is helping his brother flip houses in the Hamptons. When Pierce mistakes Rian as the woman who hit is car (a freakin' Tesla!) and then left the scene, sparks fly and soon Rian and Pierce are running into each other everywhere. Is this fate, are they meant to be together?
I'll admit that it's been awhile since I've read author Helena Hunting (obviously, I've missed the first two books in this series, something I hope to rectify soon) and I'm so mad at myself because I'd completely forgotten how quickly and perfectly she can draw you into a story! From the very beginning, I was smiling and snickering at the antics of Rian and Pierce. Well, mostly Rian, she was endearingly clumsy and I was immediately charmed by her personality. She was smart, loyal, sweet and almost shy at times, a virtual shark at others. Rian was struggling with the burden of her past, it definitely weighed her self esteem down but she was no pushover either. And Pierce, oh my goodness, I adored him! He saw all of the great qualities in Rian right away and he really fought hard to get Rian to see them too. I was rooting for Pierce from day one, he was just an extremely dreamy character.
When all was said and done, this book had some easy drama, had characters that grew in confidence and conviction, had moments that were SWEXY (sweet + sexy) and had a ton of fun in it! Told from dual POVs with a happy ever after. I voluntarily read and reviewed this book.
Helena Hunting is the author of The USA Today and NYT bestselling PUCKED Series. She lives on the outskirts of Toronto with her incredibly tolerant family and two moderately intolerant cats. She writes everything from romantic sports comedy to new adult angst.