Hey y'all…
YAY, it's Friday,

hope everyone had a great week! So today is the

LAST Friday of September…EEEP

! Monday will be the start of my absolute favorite month of the year. I'm a

certified Halloween nutball!

Unfortunately, because of Mr. A's illness, it'll be too much for me to haul out all of my decorations (I have a TON) but that doesn't mean that I can't have some fun on my blog, right?!?

Be on the lookout for more info soon!
Today's post includes
5 FOXY LIBRARIAN Romances

! Now, in all honesty, I had to do some digging for this one. And I'll admit that I haven't read ALL of these picks but I think I found some good ones! 😳😏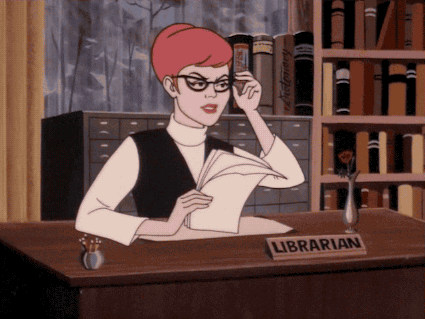 Everybody Knows (The Sunnyside Series Book 1) by Jacie Floyd
The fast lane is going nowhere…At least that's how librarian Harper Simmons feels. Despite growing up in her mother's glitzy world of high fashion and rock stars, Harper craves small-town normalcy and a place to call home. She sets her sights on Sunnyside, IL, determined to renovate and reopen the town library. But the locals aren't sure what to think of this dynamo in designer clothes.
Growing up in a small town had its ups and downs for Doctor Zach Novak. Despite his gratitude for all the Sunnysiders have done for him, he now feels stifled by the constant scrutiny and inevitable matchmaking. Longing to make a difference in the world, he's eager to leave the country on a medical aid mission…until he meets the enchanting new librarian.
Past scandals and current vandals leave meddling townspeople suspicious of Zach's interest in an outsider, but the couple's overwhelming attraction has them steaming up the nights with a secret affair. Now, he's not so sure he wants to go; she's not so sure she wants to stay. How can they have a future together in Sunnyside when everybody knows their dreams are worlds apart?
Looking for Trouble: A Sexy Opposites Attract Romance (Girls' Night Out) by Victoria Dahl
A good reason to be bad…
Librarian Sophie Heyer has walked the straight and narrow her entire life to make up for her mother's mistakes. But in tiny Jackson Hole, Wyoming, juicy gossip doesn't just fade away. Falling hard for the sexiest biker who's ever ridden into town would undo everything she's worked for. And to add insult to injury, the alluring stranger is none other than Alex Bishop—the son of the man Sophie's mother abandoned her family for. He may be temptation on wheels, but Sophie's not looking for trouble!
Maybe Sophie's buttoned-up facade fools some, but Alex knows a naughty smile when he sees one. Despite their parents' checkered pasts, he's willing to take some risks to find out the truth about the town librarian. He figures a little fling might be just the ticket to get his mind off his own family drama. But what he finds underneath Sophie's prim demeanor might change his world in ways he never expected.
Hopelessly Shattered: (Sacred Sinners MC – Texas Chapter #1) by Bink Cummings
1st book in an already published Trilogy.
Single Mother- ✔
Dead Father- ✔
Motherless Childhood- ✔
Librarian- ✔
Black Rimmed Glasses to Fit the Job Description- ✔
The Biggest A-hole in the World for an Ex- ✔✔
When you're born you never know what life will throw at you. You just make the best of it no matter what happens. That's pretty much been my go-to since infancy. Then the charming, bald headed, blue eyed, Brent came along and I thought all the suck in life had been flushed down the drain. Ha! That's when my true journey began–motherhood.
This is my story, on how I took life by the go-nads when I decided I needed closure from my past–my father's sudden death in particular. But what happens next wasn't anything I expected… It's hopeless… shattering….exciting … scary…joyful…priceless… and I owe it all to one man… Bear, a chapter president of the Sacred Sinners Motorcycle Club.
Warning: Contains adult sexual content, the excessive use of the F-word, cheating, and whatever else that makes it unsuitable for anyone under the age of 18.
Cougar's Gift: Pacific Northwest Cougars by Moxie North
Communicating with others didn't require the use of a lot of words in Stryker's mind. He was a man and a cougar…what more needed to be explained. But when the fates give you a mate that needs to be talked into forever a cougar needs to man up and start talking.
Tucked away in her tiny town, Libby was happy with her job at the library, her epic book collection, and her kooky parents. Until one day a mystery man rides into her little world on the back of a motorcycle.
Libby knows all about sex and love in romance novels, now she has to figure out how that translates to real life. A rough biker shifter and a sweet innocent librarian find that a new world of passion can open up with the turn of a page.
Prepare to read about a hot grunting shifter who has to convince the shy librarian that he's not only her mate, but the right man to be her first. There may not be enough sage and crystals to enlighten this cougar.
The Librarian's Vampire Assistant Kindle Edition by Mimi Jean Pamfiloff
NOBODY MESSES WITH HIS LIBRARIAN. . .
Who killed Michael Vanderhorst's maker? It's a darn good question. But when the trail brings Michael to hellishly sunny Phoenix, Arizona, his biggest problem soon becomes a cute little librarian he can't seem to stay away from. He's never met a bigger danger magnet! Even her book cart has it out for her. And is that the drug cartel following her around, too? "Dear God, woman! What have you gotten yourself into?"
Things go from bad to worse when local vampires won't play nice.
Can this four-hundred-year-old vampire keep his librarian safe and himself out of hot water? Can he bring his maker's killer to justice? Yesterday, he would've said yes. But yesterday, he didn't have a strange connection with a librarian. Yesterday, people weren't trying to kill her.
AND…I DISCOVERED BOOK 2 IS RELEASING SOON! *From the newsletter of Mimi Jean Pamfiloff
Pre-Order The Librarian's Vampire Assistant, Book #2
Coming Oct. 23rd
HOW MUCH LONGER CAN HE KEEP HIS SECRET AND HIS FAVORITE HUMAN SAFE?
Michael Vanderhorst has always been a lone wolf. Or lone vampire? Whatever. Point is, this ancient gentleman vampire is obsessed. She's quirky, a horrible dresser, and the cutest librarian he's ever seen. The question is, why her? In four hundred years, no one has ever captured his attention like this. He must find out, which is why he just signed on as her new assistant.
The problem is, she has no idea vampires exist or that she's just broken one of their laws. As the leader of his territory, Michael has been ordered by his council to turn her or kill her. "Over my dead body!"
Have you read any of these books? Have a good one y'all!