Shadow of the Moon
Kwen D. Griffeth
Publication date: September 25th 2017
Genres: Adult, Mystery, Paranormal
The grisly murder of a diplomat's son in Central Park draw NYPD Detective Gerald Meeker and FBI Special Agent Andee Trakes into a twisted and confusing investigation. Within hours, the evidence indicates the man was executed in the manner saved for werewolves. Andee Trakes is assigned to liaison with a history professor, who is an expert on folklore and legends.

Professor Alwyn Lloyd, handsome, articulate and successful, not only agrees the method of death was indeed an execution, he claims to be a werewolf. Andee is torn between the desire to date the man and the suspicion to arrest him.

From the initial killing in the park, a bloody spree is ignited that soon has Andee and Lloyd forced to work together to protect themselves and family members.

Shadow of the Moon explores the world of werewolves and paints a picture of what is good about them, as well as bad. The story explains what is beautiful as well as ugly about the wolf.

The story is fast paced and full of interesting characters and several twists and turns to keep both the fantasy as well as the suspense and romance enthusiasts entertained.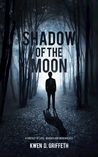 Shadow of the Moon, A Fantasy about Love, Murder and Werewolves by Kwen D. Griffeth
My rating: 4 of 5 stars
SHADOW OF THE MOON is a contemporary whodunit mystery with a touch of romance and is my first book by author Kwen Griffeth.
FBI Special Agent Andee Trakes is on the hunt for a killer. The trail takes her to a history professor, Alwyn Lloyd, who knows a hell of a lot more than Andee bargained for!
This is a relatively "clean" romance (no sex), it just gives us that tease of what could be between Andee and Alwyn. Andee is my favorite kind of character…badass and unapologetic about it! And Alywn…well he's the "Unum", the head alpha so he's pretty badass too but also loyal, devoted to his family and full of respect for his history. They were both so stubborn in their own ways, I felt like Alywn and Andee made the perfect pair!
I truly enjoyed the storyline. I thought it was a great take on an old trope and I loved the mysterious threats that were twisted in the plot. The only thing that kind of distracted me from the story was the stilted dialogue. I'm not sure if it was intentional or not but I sometimes felt like the banter was a little TOO formal and stiff. But overall, it was a good first read from Mr. Griffeth! Maybe we'll see more from these enigmatic characters in the future?? Told from various POVS with a happy ending.

Author Bio:

Winner of Readers' Favorite Silver Award for Historical Fiction/Western, Kwen knew he wanted to be a writer when he was fourteen years old. He felt the urge when he finished Earnest Hemingway's masterpiece For Whom The Bell Tolls. The story touched him in a way no other book ever had. It transported a kid born and raised on a farm and ranch in Idaho to the mountains of Spain. It took him back in time forty years to witness the Spanish Civil War. Kwen knew he wanted to share that wonder with other people.

John Lennon said, "Life is what happens while you make other plans." While Kwen lived a full and varied life, his dream of writing remained in the back of his mind.

Finally, in 2012, he wrote a novella named Dear Emma. He self-published through Amazon and asked people to read it. "The best way to see if I can write is to let people check it out," he said. Like it, they did. Currently, Dear Emma enjoys a 4.8 out of 5 stars rating on Amazon.

Often asked what genre he writes, Kwen replies he writes stories about people and uses the genre that best fits the story. "I think of the genre, or setting as another character that interacts to help tell the story," he says.

His most often received and constant comment is how real his characters seem. Upon the completion of his historical fiction trilogy Sam and Laura books, a reader telephoned Kwen and directed him to write more stories about the couple. When asked why the reader was so adamant about more stories, he replied he "wasn't ready to tell Sam and Laura good bye yet."

Kwen considers that comment one of his highest compliments.

Kwen's books are getting some attention from the literary community. The Law of Moses, the Silver Award winner from Readers' Favorite, and The Tenth Nail both received the Gold Award from Literary Titan Book Review. The Gold Award is given to books "found to be perfect in their delivery of original content, meticulous development of unique characters in an organic and striking setting, innovative plot that supports a fresh theme, and elegant prose that transforms words into beautifully written novels." Many of Kwen's books have received the Gold Award from Literary Titan. In addition, The Law of Moses was awarded five 5 Star Reviews from the reviewers of Readers' Favorite.

Kwen's books are available in several formats; e-Book, paperback, and audio. He invites you to check his writings out. Who knows? He might become your next favorite author.
GIVEAWAY!